Tailormade Services
for your special event
A private dinner for two? A romantic wedding? An amazing event for your staff or customers? Your wish is our challenge!
We work with relentless dedication and creativity in order to deliver an unparalleled experience. A mouth-watering walking dinner or culinary appetizers? Colorful flower decorations and trendy or traditional furniture? A classical piano or a groovy DJ?
"We unburden"
Our keyword: Quality. 100%. We don't settle for less. Our products: Honest, sustainable and local.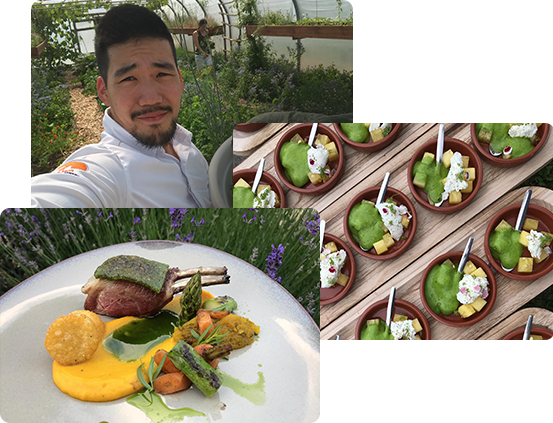 Born in South-Korea (1987) and 6 months later warmly welcomed in a loving family in Klimmen (Limburg). Washing dishes in tavern 'De Nachtegaal' in Meerssen, I discovered my passion.
During and after my culinary education at the 'Cas Spijkers' Academy, I have been able to gain valuable experience at renowned restaurants in the Netherlands and abroad, for example:
Restaurant Arzak ***, Spain
Restaurant Villa Joya **, Portugal
Restaurant Beluga **, The Netherlands
McCalls, largest catering company Westcoast USA

Everything I learned, I learned from the best. Today, the worlds of top star restaurants and high-end catering come together in my own company. Realizing creative concepts is my challenge. For you.
Culinairy events
In addition to our catering services, we also organise various events.
Reservé
Easy access and don't loose time waiting.